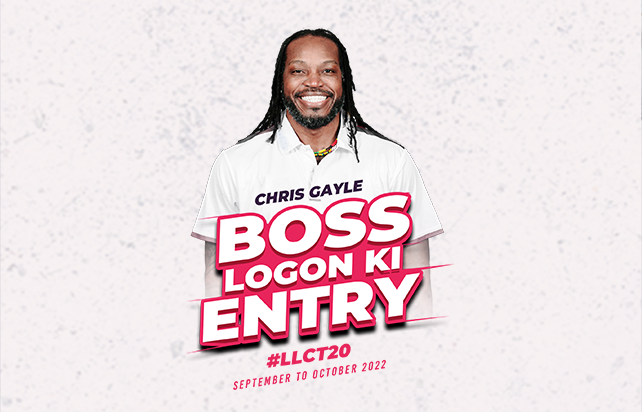 The Universal Boss, Chris Gayle, Joins Legends League Cricket, Season 2
A legendary cricketer remarked by many to have played a pivotal role in shaping the modern style of cricket, Chris Gayle is ready to play another round of thrilling cricket entertainment with the Legends League Cricket Season 2. Adani Sportsline-owned Gujarat Giants have picked the Jamaican all-rounder, Gayle, alongside Virendra Sehwag to prove his mettle in another engaging league of cricket that kicks off on 16 September at the Eden Gardens, Kolkata.
Nicknamed Gayle Storm, Gayle Force, World Boss, and Master Storm, Chris Gayle owns several outstanding records in T20, ODI, and Test cricket to his name; most hundreds, fastest hundred, most fours and sixes, you name it, and Chris Gayle's hard-hitting, excellent timing, and impressive build has led him to perfect his batting technique and blow the minds of the audience with his presence on the ground.
The all-rounder cricketer Chris Gayle has had an impressive trajectory
The left-handed batsman and off-break bowler, Chris Gayle, debuted in first-class cricket at the very young age of 19. He made his one-day internationals (ODI) debut in September 1999 against India and his test debut in 2000 against Zimbabwe. Starting with local cricket from the club of Lucas, Kingston, Gayle accredits the cricket club for sparking his interest in the game and providing a learning platform to flourish and prosper.
Owing to his fantastic play, in 103 matches, Gayle has scored over 7000 runs with a strike rate of 60.26, racking 15 hundred and 37 fifties to his name. Additionally, Gayle also holds the record for the highest score of 333 against Sri Lanka at Galle, becoming the 4th cricketer after Don Bradman, Brian Lara, and Virendra Sehwag with two test triples in his cricketing career.
Moreover, the West Indies cricketer currently holds the record for the highest individual score in T20 cricket. But that's not where his cricket accolades and accomplishments end. Gayle has several other cricket records to his name, including:
Post his stint with Royal Challengers Bangalore, Chris Gayle was picked by Kings XI Punjab (now Punjab Kings) in 2018. Right before the auction in 2022, Chris Gayle pulled his name from the auction citing personal reasons but did help fans with a promise to return to the cash-rich league in 2023.
Most sixes in a career (553)
T20 International fifties in consecutive innings (4)
The highest partnership for the second wicket in ODI (372)
Most triple hundreds in a career (2) in test matches
Besides his love for the game, Chris Gayle also participates in several charitable events, which he attributes to his own underprivileged background. Recently, he inaugurated The Chris Gayle Academies in Kingston and London to help educate, train, and provide employment to people in need.
Chris Gayle is excited to be a part of the Legends League Cricket
After confirming his association with the Season 2 of Legends League Cricket, Chris Gayle exclaimed optimistically how excited he is to be a part of this prestigious league and play the game in competitive spirits with other iconic legends. Since the second season is held in India, he also remarked how ecstatic he feels every time he plays in the country and appreciates the love audiences show towards the game.
But it's not just Gayle who is thrilled to be a part of the league, but also the Co-Founder and CEO of Legends League Cricket, Raman Raheja, who is equally delighted in having the T20 Boss as a league player. Exclaiming about Gayle's onboarding to the league, he expressed his pleasure in having him as an imperative inclusion. Also, he said that his addition has given this season a new, bolder, and bigger look. He further conveyed that fans would now be expecting more firepower and entertainment on the field as these iconic legends clash on the cricket ground.
Gayle's addition to the Gujarat Giants has strengthened the team's advances
After Friday's draft stating the available days for franchises to finalise their respective squads, including additional choice of cricketers as permitted by their purse, Gujarat Giants were extremely interested in their desire to get Chris Gayle to their squad. As the team had an available purse of INR 8 crore left, the team facilitated discussions, and Gujarat Giants is glad to have Chris Gayle playing alongside other remarkable players. As Gayle happens to be popular amongst fans for his batting style and field antics, the Adani Sportsline team will undoubtedly have a fantastic time hosting the West Indies player and giving cricket fanatics something to talk about post-matches.
Chris Gayle will be seen alongside other cricketers, including the West Indies batter, Lendl Simmons and Indian player Parthiv Patel. Other noteworthy additions to the Gujarat Giants include Ajantha Mendis, the Sri Lankan spinner, former New Zealand caption Daniel Vettori leading the spin department, and pace bowler, Mitchell McClenaghan spearheading the pace bowling alleys.
The current Gujarat Giants squad includes Virender Sehwag (Captain), Parthiv Patel, Chris Gayle, Elton Chigumbura, Chris Tremlett, Richard Levi, Graeme Swann, Joginder Sharma, Ashoke Dinda, Daniel Vettori, Kevin O'Brien, Stuart Binny, Mitchell McClenaghan, Lendl Simmons, Manvinder Bisla, and Ajantha Mendis.
Legends League Cricket brings cricket extravaganza to screens on 16 September
The opening match of Legends League Cricket will take place between Sourav Ganguly-led India Maharajas against Eoin Morgan's World Giants on 16 September 2022, at Eden Gardens Kolkata, which is a part of Azadi ka Amrit Mahotsav, a special match celebrating 75 years of the Indian Independence. While the Indian Maharajas would feature top cricketers like Virendra Sehwag, Irfan Pathan, and S. Sreesanth, the likes of Jacques Kallis, Dale Steyn, and Lendl Simmons will be a part of the opponent team, the World Giants.