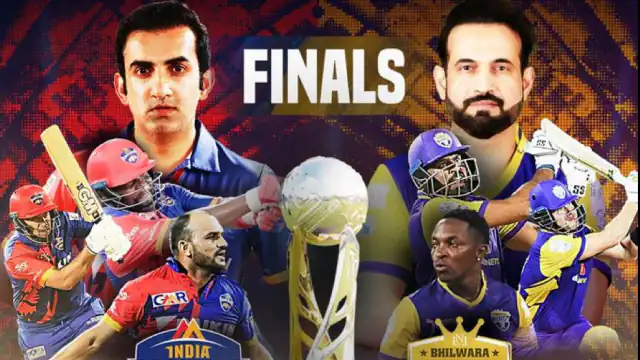 Ross Taylor played a stormy innings, India Capitals set a target of 212 runs to Bhilwara Kings
The final match of Legends League Cricket 2022 is being played today at the Sawai Mansingh Stadium in Jaipur. In this title match, the teams of India Capitals and Bhilwara Kings (India Capitals vs Bhilwara Kings Final) are face to face.
Bhilwara Kings won the toss and elected to bowl and called India Capitals to bat. The team that wins the Legends League Cricket title will get a prize money of Rs 2 crore. The India Capitals team is commanded by Gautam Gambhir and Bhilwara Kings is captained by Irfan Pathan. Both these players have been part of the Indian team that won the T20 World Cup.
India Capitals scored 211 runs for 7 wickets after playing full 20 overs. Ross Taylor scored 82 and Mitchell Johnson scored 62 runs for the team. Ashley Nurse contributed 42 not out in just 19 balls with the help of seven fours and a six. Rahul Sharma took 4 wickets for Bhilwara Kings.
Ross Taylor is out after playing a stormy innings. He was caught by Rahul Sharma at the hands of Yusuf Pathan. Taylor and Mitchell Johnson shared 126 runs for the fifth wicket. Taylor hit four fours and 8 sixes in 41 balls and played a brilliant innings of 82 runs.
After Ross Taylor, now Mitchell Johnson has given his fifty. Johnson has hit seven fours and two sixes in 32 balls. India Capitals score 114 for 4 after 14 overs.
India Capitals has crossed the 100 mark. There has been a 99-run partnership between Ross Taylor and Mitchell Johnson so far. After 13 overs, India Capitals scored 120 runs for 4 wickets.
Ross Taylor has completed his fifty off 31 balls. He has hit three fours and four sixes so far. After 11 overs, India Capitals' score is 87 for 4 wickets.
Recovering from a poor start, Ross Taylor has started a counterattack. Taylor took 30 runs in an over by Yusuf Pathan hitting four sixes. After 9 overs, India Capitals' score is 74 for 4 wickets.