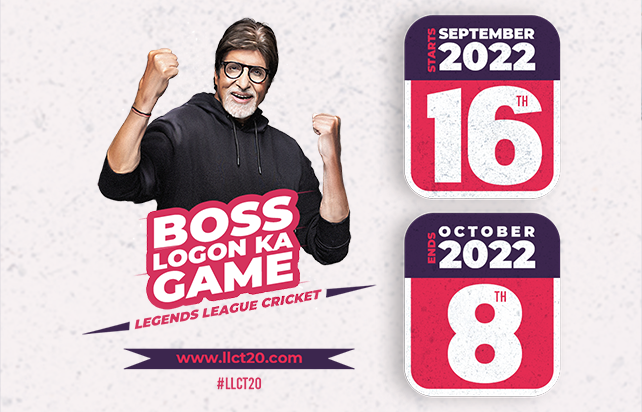 Legends League Cricket season 2 schedule announced; tournament begins on 16 th September 2022
Missing first ball boundary off Virender Sehwag's willow? Or that S Sreesanth's wicket taking celebration? Or Gautam Gambhir's unique stance? Or Jacques Kallis' all-round performance? Oh! How often we used to come back from work to switch on the television just to watch our legends play? Gone are those days – is all you must be thinking right now? Well, not anymore. The legends are all set to make a comeback in the next edition of Legends League Cricket.
The T20 extravaganza is all set to smell the Indian soil in September-October this year. With 80 + players confirming their participation for the next edition, Legends League Cricket (LLC) officially announced the schedule for the upcoming season. The season is all set to begin from 16 th September 2022 at Eden Gardens in Kolkata.
Over 100 legendary players are set to be a part of the season, with all players getting picked by four franchises. The veteran players from nine other countries apart from India are drafted with the list of first 85 players already being released.
A total of 15 matches are scheduled to be played in a space of 22 days in 6 cities out of which 5 have been finalized namely – Kolkata, New Delhi, Jodhpur, Cuttack, Lucknow.
Eden Garden, Kolkata will host three matches from 16th to 18th September, including the special match, which is being played between Indian Maharajas and World Giants, to commemorate the 75 th Year of Indian Independence as a part of Azadi Ka Amrit Mahotsav campaign.
After Kolkata, the action will shift to Lucknow where 2 games will be played on 21 st and 22 nd of September. The teams will then travel to New Delhi and play 3 games on 24 th , 25 th , and 26 th respectively. Post this, Cuttack will host 3 matches during 27 th to 30 th September.
The final set of league stage matches will be held in Jodhpur during 1 st to 3 rd October. The venue for playoffs and final are yet to be announced. Further, all the grounds will have three matches each, apart Jodhpur and Lucknow, where two matches are scheduled.
The first season of the T20 League had former stars from India, Pakistan, Sri Lanka, Australia, England, and other cricket nations. The players were divided into 3 teams representing India, Asia, and the Rest of the World. The Indian players played for India Maharajas, players from Pakistan, Sri Lanka, and other Asian countries represented Asia Lions while players from rest of the world played for World Giants.
However, this season will be in a completely new format with four franchises battling it out for ultimate glory.
Several legends of the game who have made this sport even more beautiful will be seen taking part in the tournament. Prominent stars Virender Sehwag, Gautam Gambhir, Dale Steyn, Chris Gayle, Shane Watson, Irfan Pathan, Yusuf Pathan, and Eoin Morgan among others have confirmed their participation. Similarly, Harbhajan Singh, Mohammad Kaif, R.P Singh, Rajat Bhatia, Manvinder Bisla, and Stuart Binny have also given their availability for the upcoming T20 tournament.
This edition of the league will have a blend of both – players who retired years back and also the ones who made an announcement sometime back. Denesh Ramdin, Eoin Morgan, Kevin O Brien – who recently announced retirement from international cricket will be seen in action.
The players participating in the tournament will be available from the start and remain with the league until their team last game.
Note: The detailed schedule will be out soon