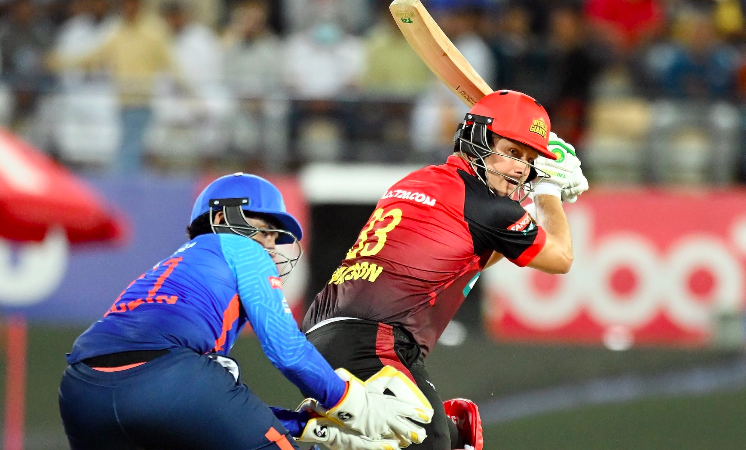 I can't thank Legends League Cricket enough for this incredible opportunity", says, Shane Watson of World Giants
The Skyexch.net Legends League Cricket (LLC) Masters has started with a bang, with the first two matches ending in close encounters. The defending champion World Giants played their first match against the India Maharajas on March 11 and narrowly overcame the Gautam Gambhir onslaught by winning the match by two runs. For the World Giants, it was the Aussie pair of Aaron Finch and Shane Watson who turned back time in style, putting in stellar performances. Watson scored a quickfire fifty, scoring 55 off 32 balls.
Watson, in a press briefing session for LLC Masters, opened up about his innings against the Maharajas, the joy of playing at LLC Masters, and discussions surrounding world cricket. Speaking about his association this season, he said, "It is great fun to be a part of LLC. This is my first LLC Masters tournament. I feel very lucky to be playing cricket at my age, and I feel very privileged to be playing alongside some of the greatest players to have played cricket in the last 20 years or so. Further, it is a great experience to be reunited with Jacques Kallis, who is my favourite cricketer of all time. I was fortunate enough to have played with him for the Sydney Thunder in 2016, and to be able to play with him again I feel very lucky. He is my hero. To be able to play with Paul Collingwood for the first time, with Hashim Amla and my great friend Brett Lee as starting points, Chris Gayle, and the list goes on and on. Also, for Aaron Finch, being able to bat with him again in the first match was something very special. I can't thank LLC enough for this incredible opportunity. I never thought something like this would be possible. It's great fun."
On being asked if there is any kind of banter that goes on between rivals of yesteryear who are now playing together, Watson laughed and said, "It is all fun banter. We feel very fortunate and privileged to be playing at a tournament like LLC. I was talking to Harbhajan, who is one of my good friends now having played with him at CSK, and we were pinching ourselves to be able to be in and around a team environment with some of the people that we have played with before, for me to be able to play with some new players for the first time, and some whom I have only admired to be able to play against them. It is an amazing opportunity and we are all just loving every minute of it because of the days of being in a team environment like this, playing and trying to see where our skills are at, where our bodies are at, it is a lot of fun."
Talking about the competitiveness in the tournament and among teams, Watson said, "We are all very competitive in our own ways and do not want to just be here to be beaten. So, to reach the top of your game, it's just inside you that you are competitive. When you see the opposition being very competitive as well, no one is taking a backward step at all. So, yes, it is a lot of fun, no doubt. We, the World Giants, are having an incredibly fun time on and off the field, but there is no question that we are certainly here to play as well as we possibly can with the preparation and physical state that we are all in. But when it comes down to competitiveness on the field, none of us is going to take a backward step."
On being asked, despite being in such prime form, why did you consider retiring from cricket? To this, Watson said, "I obviously love playing cricket, but the biggest challenge has always been my body and being fit. As it is now, that is why I am not bowling in this tournament, unfortunately, because of a bit of a niggle. But, batting-wise and skill-wise, I still feel I am batting as well as I have. The preparation that I have had in the lead-up to the LLC Masters has been five weeks of just getting into the nets and finding my groove. So, batting on nice wickets is a lot of fun. It is what I know better than anything else in my life, cricket and batting and it is not as physically demanding compared to bowling. So, it's great."
He also commented on Virat's recent hundred in the Border Gavaskar Trophy and said, "It's incredible what he has been able to achieve and will continue to achieve. It has obviously been a little while between test centuries for him, but it was only a matter of time before he scored another one. His record as it stands at this point in time is hard to believe, and he still has a lot of his career to go. You see the statistics and think that for anyone who has a chance of getting 100 centuries in international cricket, Sachin was the only other person to do it. So, it is something of a phenomenal achievement, and he still has a number of years of international cricket left as well. So, he is still going to be knocking on the doors of all these incredible records."