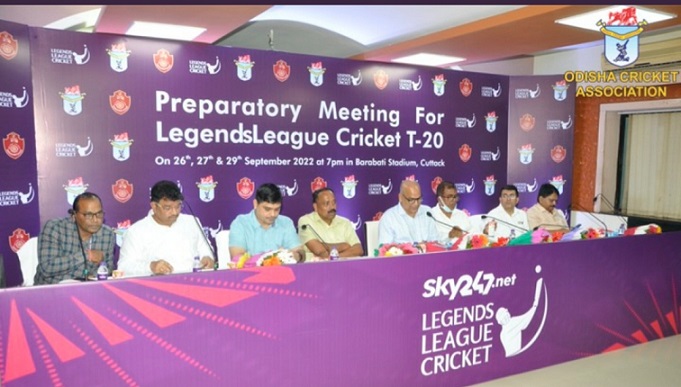 3-Days Long Legends League Cricket T20 Matches from September 26, Informs OCA President Pankaj Mohanty
CUTTACK/BHUBANESWAR: Odisha Cricket Association is hosting Legends League Cricket T20 Matches from September 26 to 29 at the Historic Barabati Stadium in association with Absolute Legends Private Limited.
OCA President Pankaj Lochan Mohanty and Twin City Police Commissioner Saumendra Kumar Priyadarshi jointly held a meeting in this regard.
On 26 September, Manipal Tigers will take on Bhilwara Kings, on 27 September Gujarat Giants will face Bhilwara Kings and on 29 September, India Capital Vs Manipal Tigers Match will be conducted.
Manipal Tigers are led by Harbhajan Singh, Bhilwara Kings are led by Irfan Pathan, Gujrat Giants led by Virendra Shewag and Manipal Tagirs led by Gautam Gambhir. Online Ticket Selling is being done @bookmyshow.com. Offline Ticket selling will start from 22 September. Offline Ticket selling for affiliated units and former Ranji Trophy Players is 24 September.
Secretary OCA Sanjay Behera , Mayor, Cuttack Municipal Corporation Subash Singh, , District Magistrate, Bhabani Shankar Chayani, , DCP Pinak Mishra, , Commissioner CMC Nikhil Pavan Kalyan, , , Subrat Kumar Behera, CEO OCA, Avishek Mazumdar, VP LLC and other were among those attended the meet