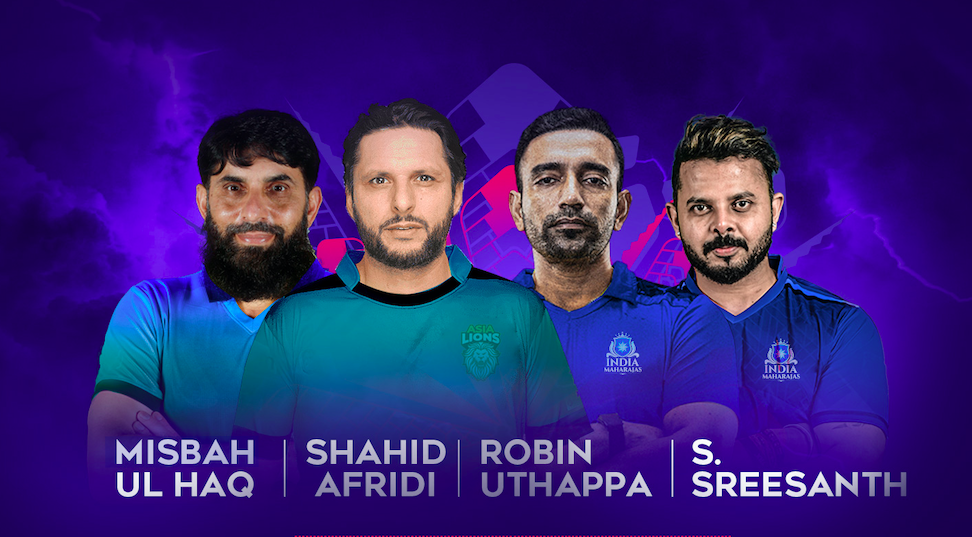 Shahid Afridi, Robin Uthappa, Misbah-ul-Haq and S Sreesanth to play Legends League Cricket
The upcoming Legends League Cricket's new season in March 2023, will witness more and more legends joining the series. Six legend cricketers- Shahid Afridi, Misbah-ul-Haq, Robin Uthappa, and S Sreesanth have confirmed to be part of the season.
The second season of franchise based Legends League Cricket witnessed a global reach of 1.2 billion fans. More than 150 million people watched the last season in India on OTTs and TV. The league saw a high level of competitive cricket from the greats of the game in India, during the 15 matches, which were played in 6 cities across the country. In the present format starting February, three teams -World Giants, Asia Lions and Indian Maharajas will fight out for the champions' trophy. Last year, World Giants won the first trophy with some outstanding performances from the legends.
S Sreesanth said, "We thoroughly enjoyed the second season. The level of competition was beyond our own expectations and all the players played in their best form. We expect this season to be more exciting, considering different teams from World, Asia and India. It is always a proud moment to play for India for me."

Shahid Afridi said, "It will be fun to play with old mates and rivals. I am looking forward to a competitive season".
Robin Uthappa said, "It was great to see the legends play while i was commentating in the last season of Legends League Cricket. I am inspired by the enthusiasm. Now I will be on the field playing with my old mates. It will be fun"
Raman Raheja, Co-Founder & CEO, Legends League Cricket said, "We are expecting a fun filled season, as lots of confirmations have already started pouring in, from legendary cricketers this season. We will soon be announcing an overall pool of almost 60-70 players for this year's season. A better fitness level from the players is expected, as the committee recommending players pool have done a thorough analysis on the players to be included in the league, basis their fitness. We have already seen some really fierce competition
amongst players during both the seasons played. It is always fun to see old rivalries on the cricket field. Our USP has been serving fans old rivalries which are being revived by confirmation by some of these legends."
The league has recently signed Mr. Simon Taufel as a Director of Match Ethics & Regulations, to strengthen Legends League Cricket fans' faith in transparent and clean cricket. He will be bringing in more scrutiny for clean cricket.
Shahid Afridi (Pakistan) -  Asia Lions, Misbah-ul-Haq (Pakistan),  Asia Lions, S Sreesanth - India maharajas